16 February 2010 by Steve Lamacq

New Band Of The Month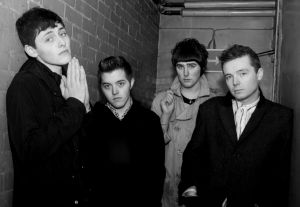 The rattling of the drums and the sinewy guitar! The tension in those broken vocals! Even the photo speaks volumes.
The poetic slouch of four boys cornered in a dead-end corridor, eyes sparkling grey and haunted (haunted by the young Morrissey and Marr?). THE HEARTBREAKS are classically rooted in '80s Manchester.
They remind me of the first time I wandered through Afflecks Palace in '84; and the night I had to sleep in my car under one of the brickwork arches near The Ritz (it's a long story). It's the density of The Chameleons and the insecurity and self-analysis of The Smiths. It's life in a Northern Town before wine bars and inner city rejuvenation.
But at the same time, THE HEARTBREAKS are bang up to date. Scooping up these influences (and more! They cite Joe Orton, Postcard Records and the Shangri Las in their list of heroes) the foursome have created a sound that provides a new stoicism and romance for Manchester 2010.
It's the music of the disenfranchised. Poetic and uncertain (and part of a wave of bands who've simply but tellingly, turned their backs on terrace chant indie-rock).
Already crowned the Manchester Evening News' Best New Band of '09, the group, formed after relocating from the coastal town of Morecombe, are about to get busy. 'Jealous, Don't You Know', which you can download below, features on the Fierce Panda label's forthcoming call to arms EP 'Zip It Up' which is out in a matter of weeks (full review to come). And that'll be followed by their own debut single 'Liar, My Dear' out in March.
See their website for live dates in February and March or to sign up for their mailing list.
picture copyright Katie Dervin
THE HEARTBREAKS - Jealous, Don't You Know (demo)
Comment
Commenting is closed for this article.
Read More: