14 August 2011 by Steve Lamacq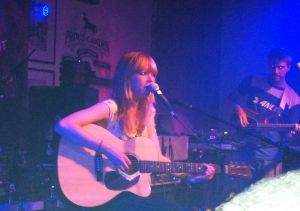 For at least half of LUCY ROSE's set there are – count them – five too many people on stage.
I'm a little bemused: before this gig at Proud Galleries, I had images in my head of Rose, stood alone, spellbinding and occasionally fragile.
Instead, she is sporadically chatty and surrounded by a group of studious musicians, as if to conjure up a vision of what she'll look like when she gets on Later…With Jools Holland.
And on Later… she should be. Despite the distractions of the band (of whom she speaks very fondly and who seem to make more sense as the set starts to flourish), Rose uses her striking voice to good effect. It shines and vanishes like motes of dust caught in the light.
There is also something of the tom-boy about her, which sets her apart from the other post-Marling figures of the past 18 months. But at the same time, the songs are pretty and sensitive; 'Nightbus' is a wonderfully ghostlike thing, translucent and unafraid of the dark, while current single 'Middle Of The Bed' – her self-financed debut – conjures up an inner strength, which centres around her central theme….she is all about reassurance.
These songs say "everything will be alright." Don't worry.
At the opposite end of the scale and the other end of the week, MAZ TOTTERDELL played the Bull & Gate on Monday, a diminutive figure with just a guitar.
Hailing from the west Country, she's still in her early teens, but has a maturity and confidence (not to mention breadth of influence) way past her age. Shyer on stage than off, she has touches of Florence and Tracy Chapman – not to mention a Feist-y ear for a pop song ('Smile On Sunshine' is, in a good way, aching to cheer up an Ad Break near you soon).
The album is due early next year, but in the meantime, here's something from the Session she did for me on Radio 2 while she was in London last week.
Comment
Commenting is closed for this article.
Read More: